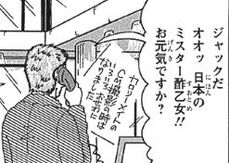 Mr. Suotome (あいちゃんのパパ) is Ai Suotome's father. He has only appeared once, in the 47th volume of the manga series, and never in the anime series.
Little is know about him, besides from being really wealthy, being a high-rank businessman and living abroad, in England. Although his face is not seen, he appears to be in his 40's. He collects expensive items, such as old Chinese vase that was accidentally broken by Kuroiso.
In his only appearance, Ai calls him by phone to ask for permission to use his facilities to organize the pre-wedding ceremony between Ume Matsuzaka and Tokurou Gyouda. After checking data about Ume in his computer, he agrees to do so, even giving the Suotome helicopter for the ceremony.