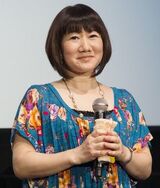 Akiko Yajima (矢島晶子) is a Japanese voice actress born in Kobe in May 1967. Since the 90s, she has dubbed dozens of characters in animes, films and videogames: for example, young Anakin Skywalker in Star Wars Episode I or Kohaku in InuYasha).
She is best known for being the voice of Shinnosuke Nohara in the anime series Crayon Shin-chan. Her particular voice is an icon of the series in Japan and compared to other dubs of Shin-chan in other countries, she has a deeper voice that is unexpected from a 5 year old kid.
She has been the voice of Shinnosuke in all the anime episodes, movies and songs that Shinnosuke sings, as well as in uncountable promotions of Crayon Shin-chan related merchandising.
Gallery
Ad blocker interference detected!
Wikia is a free-to-use site that makes money from advertising. We have a modified experience for viewers using ad blockers

Wikia is not accessible if you've made further modifications. Remove the custom ad blocker rule(s) and the page will load as expected.