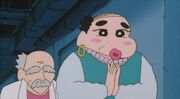 Angela Ome is assistant of Dr. Big Bag. In middle-aged ransvestite, transvestite that he woke up to at the age of 12. Type, such as Hiroshi Shobokure man. Contours of the face is very similar to Shinnosuke, are referring to himself in the play that. He was born in December 25, 1958, Namita, Nagao.
Ad blocker interference detected!
Wikia is a free-to-use site that makes money from advertising. We have a modified experience for viewers using ad blockers

Wikia is not accessible if you've made further modifications. Remove the custom ad blocker rule(s) and the page will load as expected.