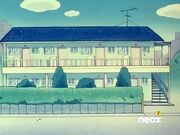 Midori Ishizaka lived in an apartment. It is located near the neighborhood where Shinnosuke lives, in a set of apartments, this apartment is number 204. The apartment is diaphanous, except for two doors that are separated from the kitchen and another to separate the bathroom. She moved to a bigger one when she married Junichi.
Gallery
Ad blocker interference detected!
Wikia is a free-to-use site that makes money from advertising. We have a modified experience for viewers using ad blockers

Wikia is not accessible if you've made further modifications. Remove the custom ad blocker rule(s) and the page will load as expected.