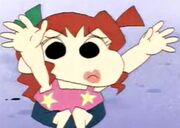 Atsumi Kutsuzoko (屈底 アツミ), also known as Paris, is Atsuko's 2-years old daughter. She usually dresses in the same fashions as her mother and is prone to nose picking, and she resembles her mother's face.
She gets along well with Himawari, since they are of similar age (Atsumi is lightly older). Often she gets angry with her mother, although at the end of the chapter they always reconcile in a happy ending.
Voice actors
English: Leah Clark
Japanese: Saori Sugimoto
Gallery
Ad blocker interference detected!
Wikia is a free-to-use site that makes money from advertising. We have a modified experience for viewers using ad blockers

Wikia is not accessible if you've made further modifications. Remove the custom ad blocker rule(s) and the page will load as expected.