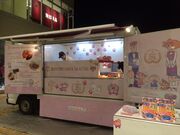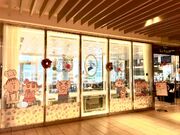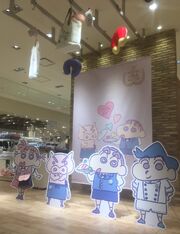 Bistro Ora Machi[1] is a collaboration with Crayon Shin-chan and Cafeteria Frezza to create a Shin-chan themed cafeteria in Japan to commemorate the 25th anniversary of the series. It is held in Tokyo Skytree, Kasukabe, Osaka and Nagoya.
Menu
The menu includes a variety of foods, like stews, hamburgers and curry. These are cooked with a shape or a theme related to the anime and/or manga.
Items
For every certain amount of yen you spend, you get a free item, a keyring and a limited Invasion!! Alien Shiriri (2017 movie) item.
Goods
The cafeteria also sells Shin-chan related products, like iPhone cases, T-shirts, plushes, mugs, etcetera.
References
Ad blocker interference detected!
Wikia is a free-to-use site that makes money from advertising. We have a modified experience for viewers using ad blockers

Wikia is not accessible if you've made further modifications. Remove the custom ad blocker rule(s) and the page will load as expected.