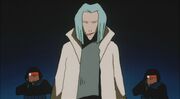 Blade is a executive of the Pig Hooves. Knife as a weapon has been, as the name, a number of virtuoso master a knife. But usually expressionless and silent, eccentric tweeting without puns puns Wakimae a place like that laugh alone. Are often amazed that their mom and barrels. But, you turn into a dangerous person out of the madness when it comes to combat orientation. But also first class of weapon handling, very agile motionless, avoiding all the machine gun bullets of muscle slammed. On the other hand because they will react quickly to interesting pun, puns is also a weakness. Was brought down to devour the punch face was made (that you laugh at the puns that they have to mouth) to full fighting chance when the muscle, it away about themselves after their weaknesses. For concealed weapons considerable, when you order the "refuge in the abandoned airship weapon," the muscles at the end, it took quite a bit of time to throw away a weapon.
Ad blocker interference detected!
Wikia is a free-to-use site that makes money from advertising. We have a modified experience for viewers using ad blockers

Wikia is not accessible if you've made further modifications. Remove the custom ad blocker rule(s) and the page will load as expected.