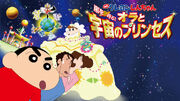 Crayon Shin-chan: Fierceness That Invites Storm! Me and the Space Princess (クレヨンしんちゃん 嵐を呼ぶ!オラと宇宙のプリンセス Crayon Shin-chan: Arashi o Yobu! Ora to Uchū no Princess), also known as Shin Chan, Me and the Space Princess, is an 2012 Japanese anime film. The film celebrates the 20th anniversary of Crayon Shin-chan anime. It is the 20th film based on the popular comedy manga and anime series Crayon Shin-chan. This movie was also released in India on Hungama TV on 22 March 2014 as Shin Chan The Movie Himawari Banegi Rajkumari (Himawari Became a Princess).
The name of the theme song is: 'Shounen yo, uso wo tsuke!" (Boy, you'll lie).
The Noharas get abducted by aliens who claim that Shin-chan's baby sister is their princess! Will she stay on this planet or return to Kasukabe?
Manga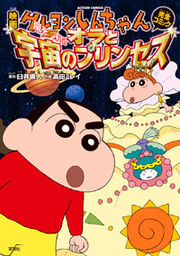 Japan: December 12, 2012 - 978-4-575-94370-2
Story
Shinnosuke Nohara, and his sister Himawari, have a fight over a plate of custard. Suddenly, two mysterious men appear in green clothing and hats bearing sunflower emblems (Himawari means "sunflower" in Japanese). They refer to Shin-chan's sister as a princess, and pass a paper to Shin-chan who signs it without hesitating. The Nohara family is promptly abducted to a UFO in a scene that draws some visual concepts from the "Phantom Zone" jail, used in the Superman motion picture series.
The Nohara family (father, mother, brother, sister, and their dog) all travel aboard the UFO to the "Himawari planet" on a mysterious and important mission that affects Earth, and may decide the fate of peace across the entire universe.
Characters
Trivia
All the 17 heroines of the past 19 movies appear in the scene in which Shinnosuke has a dream inside the space gate.