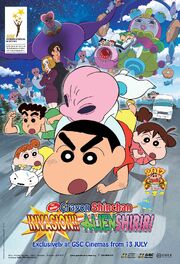 Crayon Shin-chan: Invasion!! Alien Shiriri (クレヨンしんちゃん: 襲来!!宇宙人シリリ Kureyon Shinchan: Shūrai! Uchūjin Shiriri) is a 2017 Japanese anime film produced by Shin-Ei Animation. It is the 25th film of the popular comedy manga and anime series Crayon Shin-chan. It was released on 15 April 2017 in Japanese theatres.
Slogan
The slogan of this movie is That night both got ASSociated (その夜ふたりはシリあった).
Synopsis
One day, the Nohara family met a mysterious alien from outer space named Shiriri. On being basked by a ray emitted by Shiriri, Hiroshi and Misae became 25 years younger and appeared as kids. To be able to return back into adult form, they must find Shiriri's father, who is somewhere in Japan. This situation, which initially started with Shinnosuke's family and later his friends, gradually involves the entire of Japan.
Manga
Japan: April 15, 2017 - ISBN 978-4-575-96194-2
Ad blocker interference detected!
Wikia is a free-to-use site that makes money from advertising. We have a modified experience for viewers using ad blockers

Wikia is not accessible if you've made further modifications. Remove the custom ad blocker rule(s) and the page will load as expected.