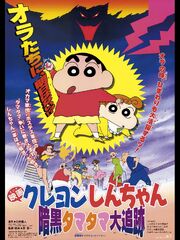 Crayon Shin-chan: Pursuit of the Balls of Darkness (クレヨンしんちゃん 暗黒タマタマ大追跡) is a Japanese language animated film. It is the fifth installment of the Crayon Shin-chan series released in 1997.
It is to be released in India in June 2012 named: Shin chan in Dark Tama Tama thrilling chase.
Manga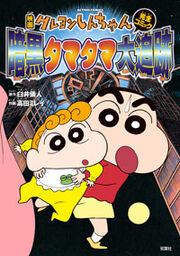 Japan: July 10, 2015 - ISBN 978-4-575-94453-2
Plot
Shin Chan found a shining ball by the river and brought it home. To his horror, Himawari swallowed the ball. Actually, the ball belongs to the Devil Jack and two gangs were fighting over this mysterious ball which they believed that one could conquer the world with it. Shin Chan and his family got involved in the battle between the two gangs. Himawari was then kidnapped by King Jed; everybody was trying their best to save her. Eventually, Himawari was released, however Shin Chan had accidentally set free Devil Jack...
Characters
Shin Chan
Misae
Hiroshi
Himawari
Shiro
Single of the film
Hecson: One of the descendants of the Clan of the Cataplines who had emigrated to Europe. He can read the minds of their opponents by a training in Tibet. He has blonde and blue eyes.
Majo: it is directed by the troops of Cataplines Clan. She is an expert in the art of rhythmic gymnastics combative.
Rosa is one of the three sisters of transvestites Tamayura Clan. Pink goes with his head shaved. Obese. His real name is Takeshi.
Lavender: One of the three sisters of transvestites Tamayura Clan. Will lime green with a shaved head. It is thin and has painted eyes. His real name is Tsuyoshi.
Lima is one of the three sisters of transvestites Tamayura Clan. It goes from yellow and with a shaved head. Is thin. His real name is Kiyoshi.
Satake: is the son of the chief of Cataplines Clan. It's champion in martial arts . He loves children. In the end, is passed to the good with Tamayura clans. Its major peculiarity is its enormous musculature.
Yone Higashimatsuyama is a policeman from Chiba. Only hits a shot in the film and is very useless. The origin of the surname is in Higashimatsuyama, Saitama Prefecture, her guns are Beretta M92 FS and M84
Nakamura: chief of Clan Cataplines. Wear kimono, owner of hostess club, has Kyoto accent.
The Evil: transvestite turned that they removed the eggs for over a thousand years. She wears a sticker on the back it says it is Diablo product expired on 12/31/1996 and. The call Mali.
Yoshito Usui: cameo apperence, he is enka love karaoke. In Tokyo, he wear tie and coat, hit by Hiroshi.
Poster
Ad blocker interference detected!
Wikia is a free-to-use site that makes money from advertising. We have a modified experience for viewers using ad blockers

Wikia is not accessible if you've made further modifications. Remove the custom ad blocker rule(s) and the page will load as expected.