Crayon Shin-chan: Arashi o Yobu! Ora to Uchū no Princess (クレヨンしんちゃん 嵐を呼ぶ!オラと宇宙のプリンセス?) is an 2012 Japanese anime film.[1] "Slogan is goodbye, sunflower , "" silly, sometimes, brother . " The film celebrates the 20th anniversary of the Crayon Shin Chan anime.
Manga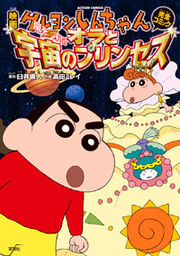 Japan: December 12, 2012 - 978-4-575-94370-2
Summary
Director as well as previous work, Soichi Masui charge. In his fifth since the work is, was the eldest daughter of the house and the main sunflower field. In addition, the Corps "Twink DE Ikumen" star of the sunflower sunflower to care Cocorico, Noriyuki Akira Tsuchida, Takashi Fujii, four of the guest to participate as a voice actor. They all seems to be, which is entertainer of the 20th anniversary of his debut, and multiplied by the 20th anniversary of this work should be noted. In addition, the announcer Shinichi Hatori star to participate as an announcer of sunflower. The theme song, I want to run 7 corridor that is responsible for continuing the TV series has been determined.Name of Song:'Shounen yo, uso wo tsuke!"( Boy, you'll lie).
Story
Shinnosuke and his sister Himawari had a fight by means of the pudding. Suddenly, a mysterious man comes and says "I do not need something sister" Shinnosuke came to head. They keep talking with my sister, pass the paper to Shinnosuke, and to sign it, Nohara family would have been taken away to the UFO was in the sky. Shinnosuke we are informed to arrive at the "Himawari star" star brother of the earth, for the peace of the universe, and must not be the princess of this planet ... there is a Himawari.
Characters
Sunday Goronesuki Great stars and sunflower. Gorone and love to dance. Uranasubin  Minister of stars and sunflower inadvertently. Came to Earth looking for a sunflower. Getz In charge of the earth. Have a bachelor on the planet. Reasonable-Ikemen Minister of sunflower Twink star. The selection of Twink has a severe eye. Boinda de Yodesu Minister of sleep star sunflower us. Has been that the baby sleep in a number of breast. Queue or not ー Minister of stars and sunflower snacks. Chuck out the junk from the star guy. Shrill-Keronpa Minister of sunflower stars and talking. Hot news to announce to everyone. Mokkun Minister of sunflower star carries us. Bringing you everything.
Ad blocker interference detected!
Wikia is a free-to-use site that makes money from advertising. We have a modified experience for viewers using ad blockers

Wikia is not accessible if you've made further modifications. Remove the custom ad blocker rule(s) and the page will load as expected.