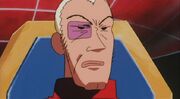 Dr. Akamamire is the leader of YUZAME. He is 51 years of age. Middle-aged man wearing red clothes. Originally I liked the large bath, bath hate from the past was loathsome some 30 years ago. Know of the existence of the "hot water of the soul of gold," legendary hot springs within springs advance the plan over the earth, tries to crush their source. For some reason often eat the roast, along with his aides. Caught the Ibusuki-Goshogake and family field in the middle story, (in the movie version is one of the few, also say the person who won the Nohara family from this) yu "lump of gold", will give up during the "Land unhealthy" leisure torture them elicit in the basement of the home that is the source of field, a giant robot in order to crush the source sortie. To know the truth of the incident 30 years ago when it came to the home field, appeared yu "lump of gold" was further hampered by the plan will defeat the robot by Nohara family has turned into a super hero in its power but. Akamamire is to try to realize the plan by soaking in "hot water of the soul of gold" itself still, heal the heart that hamstrung themselves in the power of hot water to the contrary, the Reformed, who helped to rebuild the town broken . And what happened 30 years ago, No. 3 of the shoebox Akamamire was always in the public bath with a regular period of active duty ( Shigeo Nagashima is the time of publication. uniform number of the Yomiuri Giants in the supervision of, No. 33 uniform number It was, that it was someone else to go with the key) has returned to No. 3 after publication. And "someone else" is (it also did not know until you hear him) was actually in Kusatsu.
Ad blocker interference detected!
Wikia is a free-to-use site that makes money from advertising. We have a modified experience for viewers using ad blockers

Wikia is not accessible if you've made further modifications. Remove the custom ad blocker rule(s) and the page will load as expected.