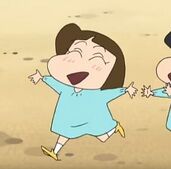 Haruka (ハルカ) is a girl that goes to the Tulip class in the Futaba Kindergarten. She appeared in the episode 715b (組長イメチェン大作戦だゾ) and in the 50th volume of the manga.
She was the cause of Bunta Takakura trying to change his appearance as she got really scared and started crying when the Headmaster approached her to ask her how she was. It is finally discovered that she is scared as Bunta Takakura looks exactly like a crow that tries to catch her near her house.
Finally, Bunta Takakura helps her and shoes away the crow. The episode ends with a happy and fearless Haruka. However, now there is another kid, Shun, that gets scared of the director because he resembles a dog in his neighbourhood.
Gallery