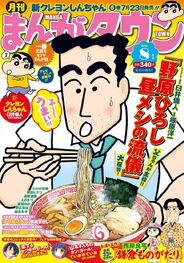 Hiroshi Nohara: Style of Noon Meal (野原ひろし 昼メシの流儀) is a manga series by Yoichi Tsukahara (塚原洋一) based on the character Hiroshi Nohara of the series Crayon Shin-chan. It was first released on January 2016 in the Manga Town magazine, with monthly chapters being released since then. The first nine episodes were gathered in one volume in November 2016.
The stories feature Hiroshi Nohara at his lunch time, during the break at his job in Futaba Corporation. Then, he visits different stores and tries several foods in a really dramatic style. Meanwhile, he thinks about his life, family and work.
The drawing style is way different compared to the original manga series. Shades play a really important role giving dynamism and dramatism to the story, and more detailes are depicted.
Gallery
Ad blocker interference detected!
Wikia is a free-to-use site that makes money from advertising. We have a modified experience for viewers using ad blockers

Wikia is not accessible if you've made further modifications. Remove the custom ad blocker rule(s) and the page will load as expected.