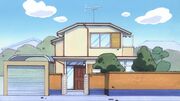 The house where Nene Sakurada lives with her mother and father. It first appeared in episode 18-2.
It has the typical structure of the rest of Japanese houses that are seen in the series: two floors, a garden and a garage.
When the boys visit Nene, they usually stay in the living room, where they play, snack, etc. The most characteristic room in this house is a dark and small, where Nene's mother hides her giant stuffed rabbit, which she hits when Shinnosuke makes her nervous.
Ad blocker interference detected!
Wikia is a free-to-use site that makes money from advertising. We have a modified experience for viewers using ad blockers

Wikia is not accessible if you've made further modifications. Remove the custom ad blocker rule(s) and the page will load as expected.