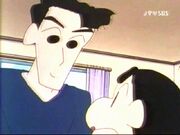 Junichi Ishizaka (石坂 純), Ricky in the Vitello and Phuuz dubs, is Midori's husband. He is 24 years old. A nice, easy going man who gets along fine with Shin-chan and his friends and they in turn, like him as well. He has been portrayed as someone with a lack of confidence problem. This is true when he wanted to propose to Midori. The have a baby together called Momo Ishizaka.
Junichi and Midori ran into the Nohara family on their first honeymoon (after their marriage) to Australia, something that turned out to be a nuisance for Midori, although Junichi did not care.
Trivia
Gallery
Ad blocker interference detected!
Wikia is a free-to-use site that makes money from advertising. We have a modified experience for viewers using ad blockers

Wikia is not accessible if you've made further modifications. Remove the custom ad blocker rule(s) and the page will load as expected.