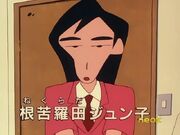 Junko Nekurada (根苦羅田 ジュン子) is a girl that Shinnosuke met when he was lost in the woods during a nursery school trip in the first episodes. Thanks to her, Shinnosuke is reunited with the others, in the country house at the entrance of the woodland.
A few episodes later, Junko visits the house of the Nohara family, with the intention of selling life insurance.
Ad blocker interference detected!
Wikia is a free-to-use site that makes money from advertising. We have a modified experience for viewers using ad blockers

Wikia is not accessible if you've made further modifications. Remove the custom ad blocker rule(s) and the page will load as expected.