Kasukabe (春日部市, Kasukabe-shi), Kazhu in the Vitello and Phuuz dubs, is the city where the Nohara family lives. It is located in Saitama Prefecture, Japan (about 30km north of Tokyo).
Places
Shops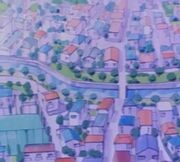 Peddlers
Itinerant
Vehicles
Local services
Houses
Other locations
Trivia
Gallery
Ad blocker interference detected!
Wikia is a free-to-use site that makes money from advertising. We have a modified experience for viewers using ad blockers

Wikia is not accessible if you've made further modifications. Remove the custom ad blocker rule(s) and the page will load as expected.