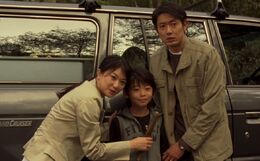 The Kawakami (川上) family is the equivalent version of the Nohara family in the live-action movie BALLAD: Song of a Nameless Love, which is based on the 10th movie of the Crayon Shin-chan series, The Storm Called: The Battle of the Warring States. They live in Kasukabe and the family is formed by three members; Shinichi, Akira and Misako.
Shinichi Kawakami (川上真一) is the son of the family, and plays the same role as Shinnosuke played in the animated movie. He is a coward primary school student that travel back to the past when he finds an old letter buried next to the Great Kawakami Tree. He is funny, but not as spicy as Shinnosuke. He proves to have a big heart and compassion when asking Matabe not to kill his already defeated enemy Takatora Okurai. He is portrayed by Takeshi Takei (川上真一).
Akira Kawakami (筒井道隆) is the father of Shinichi and equivalent to Hiroshi Nohara. He has a minor role in the movie and shows a negative and passive personality, He works as a photographer and takes pictures of all the samurais of the Kasuga clan before the battle. He is portrayed by Michitaka Tsutsui (筒井道隆).
Misako Kawakami (川上美佐子) is Shinichi's mother. She has a strong personality and worries a lot about his son. She is active minded and doesn't doubt to give order to his husband or to decide that they will go back to the past to rescue Shinichi. She is the equivalent of Misae Nohara and is portrayed by Yui Natsukawa (夏川結衣).