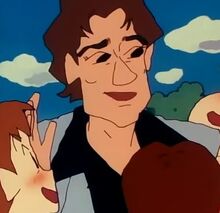 Keiji Fujiwara (藤原 啓治, born October 1964) is a Japanese voice actor, actor, narrator and sound director from Tokyo. Despite dubbing a great quantity of characters in several movies, series and anime, he is best know for being the voice actor of Hiroshi Nohara in the Crayon Shin-Chan series and movies.
He is often named in the series as a celebrity, and he is supposed to be really handsome as girls, specially Misae, really want to meet him. She is able to meet him in one occasion, when he was going to film a movie near Kasukabe. This happens in episode 289-1 (母ちゃんの恥ずかしい写真だゾ), when Misae has a picture of her and Keiji Fujiwara taken, but later she is too ashamed to get it in paper as a photo of herself accidentally naked was also taken in the same film roll.
Keiji Fujiwara is also the singer of a parody folk song that is usually played in the series, the Blues of North Saitama (埼玉北部のブルース). A specially hilarious moment takes place in episode 440-3 (父ちゃんの保育参観日だゾ), when Hiroshi goes to the kindergarten and the kids dance it with their parents. All of them agree that Hiroshi and the singer of that song have the same voice, which in reality it was in fact true, causing a really funny scene.
Ad blocker interference detected!
Wikia is a free-to-use site that makes money from advertising. We have a modified experience for viewers using ad blockers

Wikia is not accessible if you've made further modifications. Remove the custom ad blocker rule(s) and the page will load as expected.