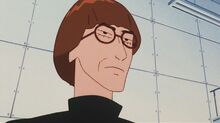 Ken (ケン) is the main antagonist in Crayon Shin-chan: The Storm Called: The Adult Empire Strikes Back. He is the leader of a project called "Yesterday Once More" which aims to bring the world back to the 20th century. He likes to drink tea and always wore black from head to toe just like his lover, Chako. His hairstyle and glasses were also very old fashioned. He thinks that the 21st century is a dirty and sad thing and he wants to bring the heart of people back into the 20th century.
Can proceed with the plan by the fit of the heart silkworm adults were watching the struggle ofNohara familywords in the final stage of planning was the driving force behind the mind the silkworm, Bomb for adults, "I want to become an adult" of Shinnosuke became conclusion after you admit defeat "and return the Future", gone, to free the people die. After the liberation, along with the Chaco jumped from the roof of a large observatory tower ofsuicide, but tried to, tried to protect the nest was located in the feet and the cry of Shinnosuke chancepigeonthey missed by the resistance of the machine. Went away to somewhere while than the Chaco and Rowa.
Trivia
He drives a Toyota 2000GT, which was affectionally called as "my soulmate".
He is based on John Lennon, former member of the Beatles.
Ad blocker interference detected!
Wikia is a free-to-use site that makes money from advertising. We have a modified experience for viewers using ad blockers

Wikia is not accessible if you've made further modifications. Remove the custom ad blocker rule(s) and the page will load as expected.