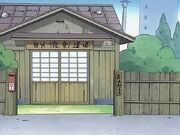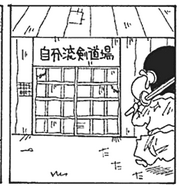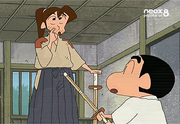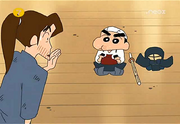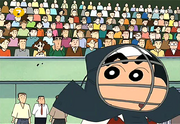 The kendo dojo (自分流剣道場 / 剣道関係者) is a building run by Kenta Musashino, the kendo teacher of Shin-chan. Kenta meets Shinnosuke when he is able to catch a fly with chopsticks on the first try. From there, Shin-chan begins his journey in kendo, with Kenta as master. In addition, Shin-chan goes free to the school in exchange for promoting it among his acquaintances. In fact, Misae, Robert McGuire and members of the Kasukabe Defense Organization are encouraged to try it out.
It is a one-story building, small and old-fashioned. To open the front door you have to hit it hard and then open it. Sometimes the ground falls because of its state.
Charaters
Gallery
Ad blocker interference detected!
Wikia is a free-to-use site that makes money from advertising. We have a modified experience for viewers using ad blockers

Wikia is not accessible if you've made further modifications. Remove the custom ad blocker rule(s) and the page will load as expected.