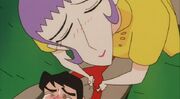 Killer Joe (age 29) is the Chief Executive of YUZAME. According to the data of the G-Men Onsen, Matsumoto, Nagano Prefecture. He is responsible for the murder of Masseur Yuan. A man likes a woman than in a transvestite. Arm massage is a class of murder, torture enough even to lead. Is presumed to have superhuman strength-in one case he is able to obliterate wooden boards with only his fingers. Why do you hate the bath (also considered only been hired because of killer unknown). During the reconstruction of the city was broken massage tired hard work of subordinates.
Ad blocker interference detected!
Wikia is a free-to-use site that makes money from advertising. We have a modified experience for viewers using ad blockers

Wikia is not accessible if you've made further modifications. Remove the custom ad blocker rule(s) and the page will load as expected.