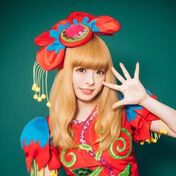 Kyary Pamyu Pamyu (きゃりーぱみゅぱみゅ) is a Japanese fashion model and singer born in Tokyo in January 1993. Her style is associated to the kawaii culture and she became internationally known thanks to her 2011 PonPonPon which went viral on the Internet.
Her relation with the Crayon Shin-chan series started in 2012, as her song Kimi ni 100 Percent has been used as opening song for the series since episode 776. The same song was used as theme song for the movies Crayon Shin-chan: Fast Asleep! Dreaming World Big Assault!, Crayon Shin-chan: Very Tasty! B-class Gourmet Survival!! and Crayon Shin-chan: Serious Battle! Robot Dad Strikes Back. This last movie also featured her song Family Party as ending theme song.
She appeared as a character in the episode 793b (きゃりー来航だゾ), an episode that takes place in the past where Shin-chan and his friends meet her in the middle of the 19th century, while Japan awaits the arrival of Commodore Matthew Perry to end the politics of Sakoku and open the country to the rest of the world.
Kyary Pamyu Pamyu also makes a cameo appearance in the fist story of the 4th volume of the spin-off series New Crayon Shin-chan. She appears as a child in the front page and she is seen performing her song PonPonPon in the kindergarten.
Gallery of pictures