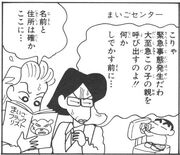 Shin-chan goes to the lost child center (迷子センター) of the Action Department Store when he "loses his mother". The employees often give him lunch, and by this they manage to get him off their hook.
Junko Koshitani and her boss Yoko Noshetami work here.
Ad blocker interference detected!
Wikia is a free-to-use site that makes money from advertising. We have a modified experience for viewers using ad blockers

Wikia is not accessible if you've made further modifications. Remove the custom ad blocker rule(s) and the page will load as expected.