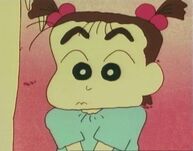 Mai Akikaze (あきかぜ まい), Marti in the Vitello and Phuuz dubs, is a 5 year old girl that goes Futaba Kindergarten, particularly to the Rose class. She first appeared in the episode 115-2 (天才少女と対決だゾ) where she was the main character, and appeared on the background in several later episodes without playing any role.
In that episode, she first appeared in a TV show as a gifted girl that has outstanding memory abilites and therefore she is an expert playing memory games. The day after, she moved to the kindergarten and immediately requested to play memory games (the game called concentration or match match, consisting of turning over pairs of equal cards).
She first defeats the principal of the kindergarten. Then she faces Shin-chan and Bo-chan. However, she loses her focus due to Shinnosuke's trash-talking and Bo's luck, and finishes last in the game, bursting into tears.
Ad blocker interference detected!
Wikia is a free-to-use site that makes money from advertising. We have a modified experience for viewers using ad blockers

Wikia is not accessible if you've made further modifications. Remove the custom ad blocker rule(s) and the page will load as expected.