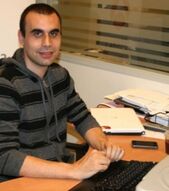 Marc Bernabé (born in L'Ametlla del Vallès, Barcelona, Spain) is a writer that was the first translator of Crayon Shin-chan into Catalan, and later into Spanish. Working between Spain and Japan, he was able to meet Yoshito Usui, later becoming a personal friend of him.
In an interview in 2003, Marc proposed to Yoshito that Shin-chan visits Spain in the anime. The mangaka agreed to it, and in May 2004 the episode 501-3 (オ ー ラッ! スペイン旅行だゾ) aired. He later appeared as a character in the episode 816 (スペインでお宝ゲットだゾ), when Shinnosuke visits Spain again.
Gallery
References
http://www.mangaland.es/ personal blog of Marc Bernabé where he explains his relation with Shin Chan and Yoshito Usui
Ad blocker interference detected!
Wikia is a free-to-use site that makes money from advertising. We have a modified experience for viewers using ad blockers

Wikia is not accessible if you've made further modifications. Remove the custom ad blocker rule(s) and the page will load as expected.