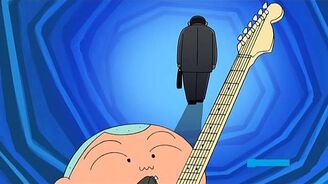 Masao's father (マサオくんのパパ) has seldom appeared in the series and we have never seen his face in his scarce appearances on the series. Little is known about him. According to Masao he is a boring person without hobbies and works as a salaryman. His first appearance was in manga volume 50 which was later adapted into episode 704-1 (ロック魂だゾ), when Masao got excited about an electric guitar that used to belong to his father. Masao's father had always told his family that, before he met his wife, he used to play in a rock group. However, it is finally discovered that the guitar was a present from his cousin and he always preferred classical over rock music.
In the 5th volume of New Crayon Shin-chan he is seen again from the back, sitting with his family in their house and talking to Masao.
Gallery
Ad blocker interference detected!
Wikia is a free-to-use site that makes money from advertising. We have a modified experience for viewers using ad blockers

Wikia is not accessible if you've made further modifications. Remove the custom ad blocker rule(s) and the page will load as expected.