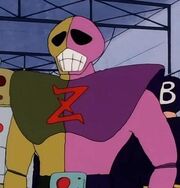 MekeMeke Z (メケメケZ MekeMeke Z) is Action Mask's archenemy and leader of the Black MekeMeke Group (ブラックメケメケ団 Burakku MekeMeke Dan). He's an advanced intelligent robot with his own equivalent of Action Mask's techniques. He also has two weaker versions of himself called MekeMeke X and MekeMeke Y.
Gallery
Ad blocker interference detected!
Wikia is a free-to-use site that makes money from advertising. We have a modified experience for viewers using ad blockers

Wikia is not accessible if you've made further modifications. Remove the custom ad blocker rule(s) and the page will load as expected.