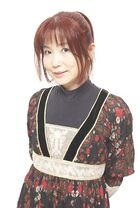 Miki Narahashi (ならはしみき) is a Japanese voice actress born in Tokyo in January 1960. She has been active in dubbing since 1983, and has voiced dozens of characters in different movies, series, anime and videogames. She currently works for the talent agency ArtsVision (アーツビジョン).
Her main role that has made her known throught all Japan has been Misae Nohara, the mother of Shinnosuke Nohara in the series Crayon Shin-chan, as well and all its related movies and videogames. She has also sung in different songs of Crayon Shin-chan, some of them being used as openings or endings for the movie and the series.
Gallery of pictures
Ad blocker interference detected!
Wikia is a free-to-use site that makes money from advertising. We have a modified experience for viewers using ad blockers

Wikia is not accessible if you've made further modifications. Remove the custom ad blocker rule(s) and the page will load as expected.