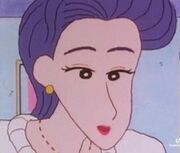 Mineko Kazama (風間 みね子) is Toru's mother. She has the appearance of a rich man's wife. She lives with her son in a very luxurious house in Kasukabe.
She is very affectionate with her son, but also very strict as far as studies are concerned. In order to secure a position for Kazama in a good university, he is always demanding a lot in the many extracurricular activities that he does, such as English courses, playing piano, swimming, jazz dancing etc.
She also likes to try to make younger men swoon by her looks and fashion. Unlike Nene's mother, Kazama-kun's mother is not unruffled by Shin-chan easily, and prefers to stay out of his way when they happen to meet. She is friends with Misae.
Her husband lives abroad.
Gallery
Ad blocker interference detected!
Wikia is a free-to-use site that makes money from advertising. We have a modified experience for viewers using ad blockers

Wikia is not accessible if you've made further modifications. Remove the custom ad blocker rule(s) and the page will load as expected.