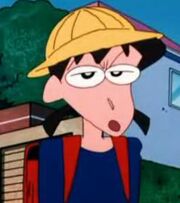 Mochida Hatiya (鳩ヶ谷 / 持田) is Shinnosuke's class protecter from school in Pencil Shin-Chan. She's called Hatogaya (はとがや) in the manga.
In 10 years, her group never got late into school, but by Shinnosuke's fault, that habit was broken.
She was molested by some bullies while being depressed about breaking the habit of 10 years without being late and Shinnosuke ended up helping her.
Gallery
Ad blocker interference detected!
Wikia is a free-to-use site that makes money from advertising. We have a modified experience for viewers using ad blockers

Wikia is not accessible if you've made further modifications. Remove the custom ad blocker rule(s) and the page will load as expected.