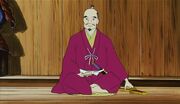 Moriyasu Izumi Kasuga is head of the Kasuga house. Musashi country governing the (Kasuga area) of a small country. On the other hand there is a dignity of a country, mainly, that combines innocence and also accept the story of generosity Nohara family came protect the servants fled, from the future. For bereaved wife, son have lost in the war, has been particularly important to Ren, the daughter. Believe in the story of the family field, and enlightenment of the world of the Warring States also temporary, cancel the marriage of convenience with the well house of Finance powers. However, that decision has become even giving the excuse of revenge and territorial expansion to finance well.
Ad blocker interference detected!
Wikia is a free-to-use site that makes money from advertising. We have a modified experience for viewers using ad blockers

Wikia is not accessible if you've made further modifications. Remove the custom ad blocker rule(s) and the page will load as expected.