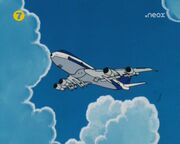 Narita International Airport (成田国際空港 Narita Kokusai Kūkō), also known as Tokyo Narita Airport, formerly and originally known as New Tokyo International Airport (新東京国際空港 Shin Tōkyō Kokusai Kūkō), is an international airport serving the Greater Tokyo Area of Japan.
In the episode 501 the Nohara family goes in a B747-400 from Narita with destination Barcelona, Spain. (IATA code BCN)
Gallery
Ad blocker interference detected!
Wikia is a free-to-use site that makes money from advertising. We have a modified experience for viewers using ad blockers

Wikia is not accessible if you've made further modifications. Remove the custom ad blocker rule(s) and the page will load as expected.