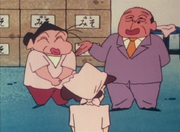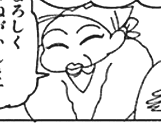 Oshiko Ibirida (井夷理田 押子) is a veteran part-timer at "Super Gokumon'ya" (胃屋良支 又吉). She appeared together with Matakichi Iyarashi. In the manga they appeared in Volume 20. In the anime they appeared in episode 275-3. Japanese ibiridaoshi means "tease".
Ad blocker interference detected!
Wikia is a free-to-use site that makes money from advertising. We have a modified experience for viewers using ad blockers

Wikia is not accessible if you've made further modifications. Remove the custom ad blocker rule(s) and the page will load as expected.