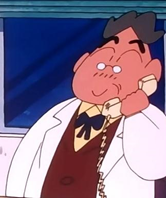 Professor Yasuda (保根田教授 / ほねだきょうじゅ) appeared for the first time in manga Volume 24. At his first appearance he headed for excavation in South America along with Tokurou Gyouda. He returned for the first time in seven years in Volume 45.
Ad blocker interference detected!
Wikia is a free-to-use site that makes money from advertising. We have a modified experience for viewers using ad blockers

Wikia is not accessible if you've made further modifications. Remove the custom ad blocker rule(s) and the page will load as expected.