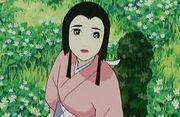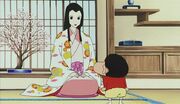 Ren Kasuga (春日廉) is one of the main characters of the 10th movie of Crayon Shin-chan, The Storm Called: The Battle of the Warring States. She is a very beautiful princess from the Kasuga clan, and is referred to as "Ren-chan" by Shinnosuke.
She is the daughter of Moriyasu Izumi Kasuga, head of the Kasuga clan. When she was a kid, she was close friend with the main samurai that serves the Kasuga clan, Yoshitoshi Matabe Ijiri. At the beginning of the movie, she appeared on the dreams of the Nohara family.
She has been requested to marry by many lords of neighbouring clans, refusing all of them, as she was secretly in love with Matabe. Finally, she and her father agreed to marry Takatora Okurai to establish an alliance with that clan. But after cancelling it, the Okurai clan declared the war on the Kasugas. Despite winning the war, her beloved Matabe was killed by a soldier that had already surrendered. Completely destroyed, she greeted the Noharas for their help and let them go to the present time.
In the live action film BALLAD she is portrayed by Yui Aragaki (新垣結衣). She also appeared as a kid, teenager and reincarnated in the present times in the special episodes that were released for promoting the movie.
Gallery