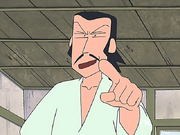 Sotomichi Hido (非道 外道) is the kendo master of an kendo dojo. He is has enmity with the other kendo dojo of the city, and in particular with Kenta Musashino.
He is a bad and despicable character, and does not hesitate to use bad arts to win from his rivals.
After a collision between one of his students and Shinnosuke, he decides to challenge Shin Chan and his teacher in the kendo tournament. Seeing that Shinnosuke was very likely to reach the final, he suggests to his student that he injures Shinnosuke to prevent him from winning.
Nevertheless, the student refuses, and decides to solve its differences with Kenta fighting directly against him. At the first attack of Kenta, Sotomichi falls down and runs away crying. His students then decide to accept Kenta as their new teacher.
Ad blocker interference detected!
Wikia is a free-to-use site that makes money from advertising. We have a modified experience for viewers using ad blockers

Wikia is not accessible if you've made further modifications. Remove the custom ad blocker rule(s) and the page will load as expected.