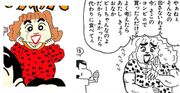 Susan Koyuki (スーザン小雪) is a transvestite who stays in room 204 of Matazuresou in the manga. She is the boss of the "ス ー ザン小雪", a cafe of transvestites in front of the station of Tokyo, where she is the boss. Her real name is Iwao Genbu (玄武岩男) , although she always refers to herself as Susan, as she keeps her feminine identity all the time.
Before becoming Susan, he was married and had a son. He was the President of the Genbu Corporation, one of the market leaders in underwear (now the President is his son, Tatsuya Genbu).
He appears as a cameo in the 14th movie of the series.
Ad blocker interference detected!
Wikia is a free-to-use site that makes money from advertising. We have a modified experience for viewers using ad blockers

Wikia is not accessible if you've made further modifications. Remove the custom ad blocker rule(s) and the page will load as expected.