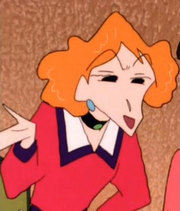 Take Matsuzaka (まつざか 竹 Matsuzaka Take) is Ume's second eldest sister, she is 26 years old. She often appears alongside her elder sister, Matsu, to fight over Ume's new boyfriend. In contrast to Matsu's traditional Japanese-style attire, Take is often prone to Western gaudiness.
Her first appearance was in SPECIAL 16e (まつざか3姉妹のお正月だゾ).
Take means bamboo in Japanese.
Voice actors
Japanese: Kei Hayami
Gallery