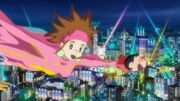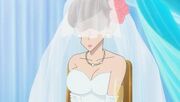 Tamiko Kaneari (金有タミコ) is Shinnosuke's bride from the future. She is the main character (alongside with Shin-chan) of the movie Super-Dimension! The Storm Called My Bride.
She lives in Neotokyo. When adult Shinnosuke was taken prisoner by Tamiko's father, Masuzo Kaneari, and transformed into a statue. She was sent to the past to bring the five-year old Shinnosuke to the future to free his adult version.
Her father is the evil owner of Kaneari Organic Electronics, a company that supplies energy to the city of Neotokyo. However, Tamiko never wanted to take part in the company, as she is aware of the tactics of her father to abuse the population and eliminate their competitors.
She was about to marry Toru Kazama to prevent his father from killing Shinnosuke, as part of a deal to save his real love. However, 5-year old Shinnosuke defeats Masuzo and the weeding is interrupted. After that, she continues her relationship with the adult Shinnosuke.
Gallery
Ad blocker interference detected!
Wikia is a free-to-use site that makes money from advertising. We have a modified experience for viewers using ad blockers

Wikia is not accessible if you've made further modifications. Remove the custom ad blocker rule(s) and the page will load as expected.