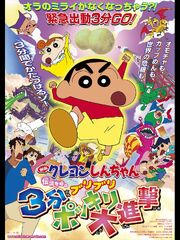 Crayon Shin-chan: The Legend Called Buri Buri 3 Minutes Charge (クレヨンしんちゃん 伝説を呼ぶブリブリ 3分ポッキリ大進撃 Kureyon Shinchan: Densetsu o Yobu Buriburi: Sanpun Bokkiri Daishingeki?) is a 2005 anime film. It is the 13th film based on the popular comedy manga and anime series Crayon Shin-chan. The film was released to theatres on April 16, 2005 in Japan.[1]
The film was produced by Shin-Ei Animation, the studio behind the TV anime. It was later released on DVD in Japan on November 25, 2005.[2]
See also
In the movie misae (shins mom) turns into ladies with powers that are mostly magic but one has a wand that can turn into a hammer and most of her transformations have big boobs.
Ad blocker interference detected!
Wikia is a free-to-use site that makes money from advertising. We have a modified experience for viewers using ad blockers

Wikia is not accessible if you've made further modifications. Remove the custom ad blocker rule(s) and the page will load as expected.