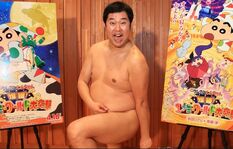 Tonikaku Akarui Yasumura (とにかく明るい安村) is a Japanese comedian born in Hokkaido in March 1982. He has appeared in different TV shows, radio shows, videoclips, movies and has performed live shows in Japan. He became known in 2014, and his most characteristic performance is one where he appears almost nude, just wearing underpants, hiding them to appear he is naked.
He made a brief cameo in the movie Crayon Shin-chan: Fast Asleep! Dreaming World Big Assault!. He appeared naked, naturally, trying to catch Shinnosuke in his dreams. Despite his reduced appearance, he was one of the main reclaims during the promotion on the movie and its merchandising.
Gallery
Ad blocker interference detected!
Wikia is a free-to-use site that makes money from advertising. We have a modified experience for viewers using ad blockers

Wikia is not accessible if you've made further modifications. Remove the custom ad blocker rule(s) and the page will load as expected.