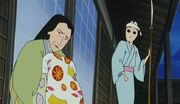 Yoshino (吉乃) is a minor character in Crayon Shin-chan's 10th movie, The Storm Called: The Battle of the Warring States. She is an old woman that serves as Ren's noblewoman.
She is really strict towards Ren and forces her to stick to tradition and etiquette. As a woman widow of a samurai, she understands Ren's feelings towards Matabe, but tries to protect her from falling to them, as Yoshino thinks that the stability of the clan is more important. She is a good cooker and helps preparing food for the tired soldiers during the battle. She is also compassive and likes kids.
In the real action movie BALLAD she is portrayed by Kyoko Kagawa (香川京子). She also appeared in episode 678, one of the special episodes released to promote the movie in 2008.
Gallery